« December 2006 | Main | February 2007 »
Wednesday - January 31, 2007
Vista first impressions
So I went out and bought Vista Ultimate yesterday. The install went fairly smooth, I did have to change some keyboard settings in my BIOS to get my USB keyboard to work during the beginning of the setup. Since I went from 32-bit XP to 64-bit Vista, I had to do a 'clean install', which creates a totally new Windows folder and does not migrate your settings/docs automatically.
The good:

The UI is great, I'd say it's even better than OSX
Driver support is very expansive, the default install recognized every device (XP doesn't come close)
Overall performance seems in line XP
The bad:

Windows Live OneCare does not work with 64-bit Vista
Currently the most unstable OS I've ever used. I've had 6 BSODs in less than 24 hours.
I'm not giving up on it, I have a suspicion that the crashes are due to the video drivers which are dated Jan 6th. Nvidia has some beta drivers released yesterday that I'll give a try. I'll also probably update the BIOS, even though the flash utility doesn't run under 64-bit Vista either. I'll have to use a boot disk. Anyway, I took a screenshot of Flip-3D which is Vista's new alt-tab replacement. It works really well, and I prefer it to Apple equivalent.
Posted by jcraven at 10:52 AM | Comments (1) | Tech
Tuesday - January 30, 2007
MMMM.... donuts
What every fat kid needs.... A Homer Simpson Donut machine. Check out the product page at gadgetshop.
Posted by jcraven at 1:16 PM | Tech
Happy Vista Day
Today Windows Vista goes on sale. I'll probably pick up a copy, just because I'm a dork. If any family members want in on the Windows Vista Family Discount, let me know.
Posted by jcraven at 10:23 AM | Tech
Monday - January 29, 2007
Bleh
As I sit here waiting on a service provider to respond, I am reminded at how much it can suck to be on call......
Posted by jcraven at 12:48 AM | Comments (1) | Tech
Friday - January 26, 2007
Draenei
So I've been playing the WoW expansion for a week or so, and primarily focused on my existing characters. I did go ahead and create a new Hunter with the new Draenei race. I doubt I'll play her anytime soon, it's more of a placeholder. Anyway here's a screenshot of Norletta.
Posted by jcraven at 9:44 AM | Video Games
Thursday - January 25, 2007
Pet Spa
OK, as a cat owner, I know this is somewhat cruel, but I still laughed out loud..... The owner did state that they only tried it once, and decided against future washings due to the cat's trauma.
http://www.youtube.com/watch?v=15bwhVxw-Bg
Posted by jcraven at 1:49 PM | Misc
Monday - January 22, 2007
Games galore
Over the weekend, I watched some football, played with Scott's Wii (that still sounds dirty), and installed the WoW expansion back. I was able to get both Norlina and AngieJo to level 61, and have already replaced a fair amount of their old armor and weapons with new stuff. It's kind of sad to see some of the gear that took so long to originally acquire, replaced in an hour. Anyway, so far I'm impressed with the new content. It's fun, and even more polished than the old zones. I've got some screenshots of Norlina heading through the Dark Portal, and the battle on the other side. (click for larger versions)
And one random screenshot from one of the new dungeons, Hellfire Citadel: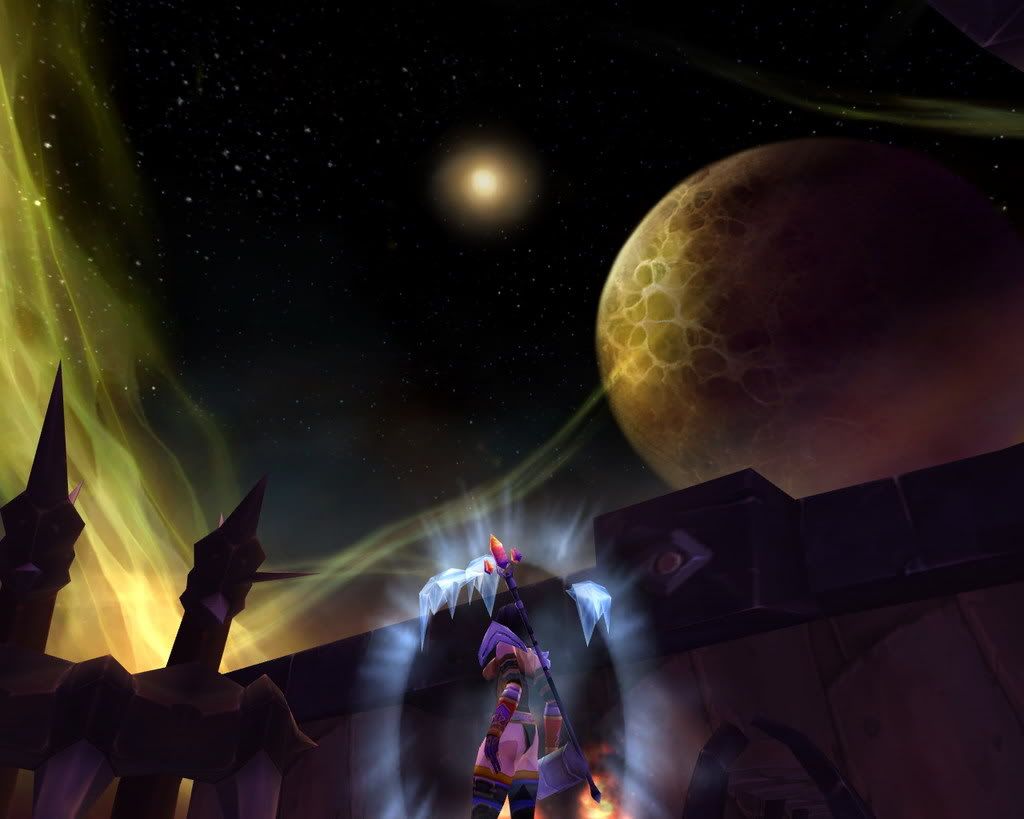 Posted by jcraven at 11:34 AM | Sports | Video Games
Thursday - January 18, 2007
Bring it on
Let it snow ice! Here's a couple pictures from this morning, after it already started turning into rain.

Snow 2007
Posted by jcraven at 9:12 AM | Comments (1) | Misc
Wednesday - January 17, 2007
Woman Dies After Water Drinking Contest
In case you haven't been following the story, check here for the summary.
cbs13.com - Woman Dies After Water Drinking Contest
Today news reports indicate that 10 members of KDND have been fired. Also, here's a disturbing recording from the show. You'll even hear a listener call in and warn of the danger of water intoxication. Very scary, and quite sad.
Posted by jcraven at 4:22 PM | Video Games
Tuesday - January 16, 2007
Amazing Race All-Stars cast revealed
The full roster of the upcoming Amazing Race All-Stars (aka Season 11) has been released. Highlights include Rob & Amber, and the Beauty Queens, Dustin and Kandice from Season 10. Zap2it has the full list.
Posted by jcraven at 12:18 PM | Television
Halo 3 preorder details
Walmart has all three versions of Halo 3 up for preorder. Of particular interest is the $99 Legendary Edition. Check out the case:
Helmet + Base Dimensions (approximate):
* Height: 10"
* Width: 8.5"
* Depth: 11.5"
Helmet Material:
* Made from High Impact Polystyrene - similar to a motorcycle helmet.
Posted by jcraven at 11:08 AM | Video Games
Burning Crusade day
The WoW expansion, Burning Crusade went on sale at midnight today. I ordered mine from Amazon, with free shipping, because I'm not in a huge rush to get it installed. I figure the new areas will be overcrowded with everyone trying to complete the same quests. I logged on this morning for about 15 minutes, and there's already a dozen or so folks online that leveled to 61, and I saw a handful of lowbie Draenei hanging out in town.
Here's some coverage of the local Raleigh EB Games launch. I'm actually a little surprised of the size of the crowd.
Posted by jcraven at 10:32 AM | Video Games
Welcome to the club
Scooter got himself a 360 and new HDTV.
Posted by jcraven at 9:57 AM | Video Games
Sunday - January 14, 2007
100 Best Companies to Work For 2007
Fortune has released it's new list of best companies to work for in 2007. Interesting list, not a huge surprise that Google takes the #1 spot.
100 Best Companies to Work For 2007: Full list | FORTUNE
Posted by jcraven at 10:52 PM | Misc
Saturday - January 13, 2007
Blue Man Group tickets on sale
If you want to see Blue Man Group in Raleigh, tickets went on sale this morning. I received a pair as a Birthday present.
Posted by jcraven at 10:41 AM | Comments (1) | Movies & Music
Thursday - January 11, 2007
Cisco sues Apple over iPhone trademark
Too funny. Apparently talks broke down this week when trying to come to a licensing agreement, so Cisco is waving the big lawyer stick. I honestly don't know how Apple expects to win this one.
Cisco Sues Apple Over Use of IPhone Name: Financial News - Yahoo! Finance
Posted by jcraven at 12:07 AM | Comments (1) | Tech
Tuesday - January 9, 2007
Macworld keynote
So the big news is Apple's new products iPhone and Apple TV.
The phone is definitely cool, but I doubt I'll get one unless they reinvent it as a clamshell at some point in the future. I don't think that Apple TV is anything special. It's basically just an expensive media extender, and my Xbox 360 can do the same stuff. It's a necessary item for those that want to buy movies/television from iTunes though. Overall, I think the iPhone is cool, but nothing in todays announcement makes me want to rush out and buy anything from Apple Computer Inc.
UPDATE: Here's a video of the music interface. pretty slick......
Posted by jcraven at 2:27 PM | Comments (1) | Tech
Monday - January 8, 2007
Xbox 360 IPTV screenshots
This week at CES, Microsoft showed a demo of the new IPTV offering on the 360. No real details released yet, but the screenshots look pretty awesome.
Posted by jcraven at 3:25 PM | Tech | Video Games
500 down
This is my 501st blog post. In 2004, I would have never guessed I'd still be doing this. Since the site went live, I've had 1,124,277 hits to date (not including spider/robot hits), and the cost of hosting is fully offset by Google Ads. Hopefully I'll be around for the next 500 posts.
Posted by jcraven at 3:19 PM | Comments (2) | Misc
Yes, I'm still here
I know it's been a while since I've made any posts. With the holidays behind us, I should get back into a 'normal' posting rhythm. Over the past couple weeks we've visited with both our families, and just took care of random errands that had to be done. We were stuck at home over New Years since I was oncall.
As usual everyone was more than generous with their Christmas gifts, and of course I got plenty of 'toys'.
Xbox 360 stuff:
Live Vision Camera
HD-DVD Player
Gears of War
Call of Duty 3
All 3 BK Games
Other random tech stuff:
8-inch digital picture frame (very cool)
New TiVo Glo remote
Cuisinart® Ice Cream Maker
I also got some greatly needed clothes, luggage, and other assorted goodies. Big thanks to Scott and Anna for the nice booze. :)

Happy 2007 everyone, and best of luck to you in the upcoming year.
Posted by jcraven at 11:53 AM | Tech
Site Upgraded
This morning I upgraded the site to Movable Type 3.33. Let me know if you find any bugs.